8 Best RGB Motherboards In 2022
December 19, 2021
Today, we're going to discuss everything you need to know about Best RGB motherboards.
Love it or hate it, there's no denying that RGB has taken over the PC gaming space. These days any serious "gaming" setup is considered incomplete without at least a few RGB components and light fixtures.
Although other components like fans, light strips, and PC cases are important to light up your rig, the rgb motherboard plays an important role too.
Being the centerpiece of the system it needs to be visually stunning, but it also needs to provide plenty of RGB headers to power up other components as well.
Motherboards With Best RGB Overview
What Makes an RGB Motherboard Different?
The main difference introduced by an RGB motherboard is the addition of RGB lighting. While RGB lighting generally uses LEDs, it is specified as "RGB" due to the lights having access to the full RGB color spectrum, as opposed to just one color.
Some products sold as "RGB" may have a limited palette or no control options at all, but don't worry- we don't recommend those in this article.
In addition to the basic addition of RGB lighting, there are other factors to take into consideration. With some motherboards, the implementation of RGB lighting can be minimal, only illuminating a single word on the motherboard.
Other motherboards may opt for a backlighting approach- that is, RGB on the back of the motherboard that shines out from behind it, into the case.
In this article, we've tried to opt for more complete RGB motherboard lighting implementations.
There's no point in paying extra dollar for a feature like this if you aren't going to go all out, right?
Which Motherboard RGB Software Is the Best?
While RGB has been on the scenes for quite a few years now, there's very little in the way of standardization across motherboard-level support.
Many motherboard manufacturers have offered their own take on RGB sync software, which not only controls the lighting of an RGB motherboard but is intended to sync all your RGB components together.
This sounds great in theory, but since there is no single standard that everybody agrees on…
And since all the standards are competing,it's a bit of a mess.
Now, even in the worst case, you should generally be able to get all of your components working. Peripherals can be controlled inside the operating system with software from their respective vendors, even if the motherboard itself does not support them.
RGB fans and cases will also come with their own RGB lighting controls, which can also be used to circumvent motherboard compatibility issues.
However, if you want a truly unified lighting profile…you're going to need to do a lot of extra research.
Different motherboard RGB software will support different components and peripherals, and if you want lighting unified across all of these components, you'll want to make sure it's all compatible.
Here are our top picks for best RGB software and what they usually work with..
Asus Aura Sync
Asus makes some great high-end and premium motherboards, and if you get one from them you'll be introduced to the Aura Sync software.
This RGB utility is among the most popular ones out there. It has all the general features you'd expect like the ability to choose from over 16 million colors and create mesmerizing patterns.
However, its best feature is the ability to use your music to change your lighting accordingly, creating a fun and exciting aura in your setup. Not only that, you can make your RGB lights dance to the system temperatures and even based on live gameplay.
It is also compatible with some well-known hardware brands, like LED strips from Silverstone, PC cases from InWin, and PSUs from Aerocool, among many others.
MSI Mystic Light
Mystic Light is a simple-to-use utility with all the basic features you'd expect with some special ones piled on top. You can sync your lighting with on-screen images, like games and movies, to create an immersive aura.
Because it is developed using an open SDK it is compatible with a wide range of GPUs, PC cases, AIOs, and RAM sticks. Just look for the "MSI Mystic Light" logo when you buy a component to make sure it's compatible or check beforehand on MSI's official website.
Gigabyte RGB Fusion
Gigabyte's RGB Fusion is a perfect example of simplicity done well. It is highly intuitive and makes it easy to add any effect and color you desire to your Aorus components. You can either control all your devices with one click or edit each one individually.
When it comes to presets, you have many to choose from: music, in-game content, or just a simple automated color cycle. RGB Fusion is also compatible with components from some other brands like CoolerMaster, InWin, and Phanteks.
ASRock Polychrome
ASRock's Polychrome RGB utility, which comes bundled with their motherboards, is a fairly useful piece of software as well. The dark UI is easy on the eyes and user-friendly, and there's Razer Synapse compatibility too.
So, if you're using any Razer peripherals, controlling their lighting will be a breeze with Polychrome RGB.
Unfortunately, the list of supported hardware devices for ASRock Polychrome is rather limited when compared to the competition. However, if you review it prior to purchasing your peripherals you can dictate your buying choices accordingly to ensure a smooth experience.
Overall, there isn't one "Best" utility. It depends on your workflow and requirements. However, with that being said, any of these are adequate for the average user and perform basically the same task. The only major difference between them is in their user interface design. Now let's go through our best picks list…
Best RGB Motherboards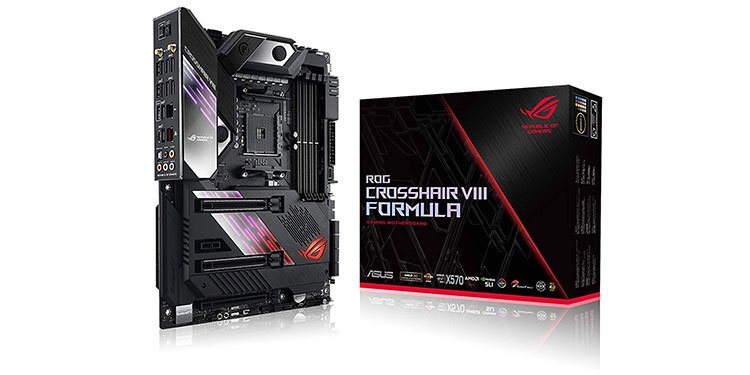 Key Specifications
CPU Socket: AM4
RAM Capacity: 128GB DDR4 (4 Slots up to 5100MHz)
Networking and Connectivity: Intel WiFi 6, Bluetooth 5.0, and 5G LAN with Asus LANGuard
Form Factor: ATX (12 x 9.6 inches)
RGB Support: Yes (ASUS Aura Sync)
RGB Headers: 2x Aura RGB Strip headers and 2x Addressable Gen-2 headers
Audio: SupremeFX S1220
If you want the best-of-the-best RGB motherboard to power your AMD PC, the Asus ROG X570 Crosshair VIII Formula could be a great choice. With the AM4 socket, it can handle any 3rd or 5th Gen CPU you throw at it.
Thanks to its strong VRM configuration, there's plenty of potential for overclocking too. Even multi-core CPUs with high boost clocks like the 5900x or the 5950x can be pushed to their limits if you're using a good AIO.
The maximum memory overclock speed is impressive, at 5100MHz. With 128GB of total capacity, you can also install the RAM you need for any heavy workloads like video editing and animation. Considering the price, DDR5 compatibility would've been nice to see here, but that feature would require a socket upgrade which will only come with next-gen CPUs.
The motherboard also has a 5-way optimization utility, which allows for system-wide tuning. You can adjust the overclocking and cooling settings based on different use cases in your PC. This is a handy feature for anybody who's passionate about tweaking their system now and again and playing around with different profiles.
The RGB lighting on this motherboard looks awesome too, with the multicolored slanted lines on the VRMs along with the backlit ROG logo which you can customize using ASUS Aura Sync.
Overall, the Asus ROG X570 Crosshair VIII Formula is highly recommended for anyone who wants a great motherboard with RGB, both for hardcore enthusiasts and beginners.
Pros:
Premium build quality
Impressive VRMs and heavy-duty heatsinks
Durable pre-mounted I/O shield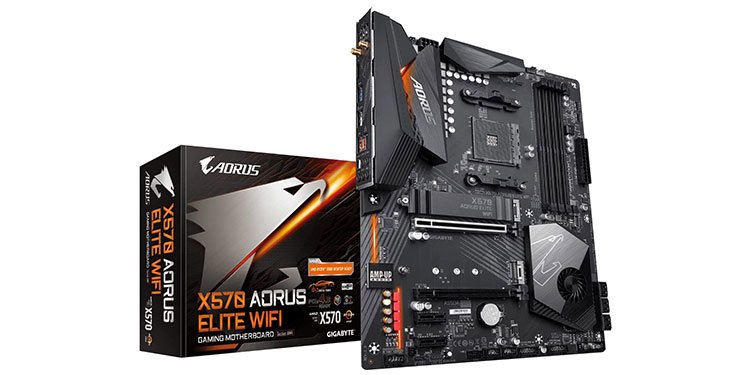 Key Specifications
CPU Socket: AM4
RAM Capacity: 128GB DDR4 (4 Slots up to 4733MHz)
Networking and Connectivity: Intel WiFi 6, 1G Ethernet Port, and Bluetooth 4.2
Form Factor: ATX (12 x 9.6 inches)
RGB Support: Yes (Aorus RGB Fusion 2.0)
RGB Headers: 2x Addressable, 2x RGB, and 1x CPU cooler RGB strip header
Audio: Realtek ALC1200
If the Asus ROG X570 Crosshair VIII Formula is way out of your budget but you're looking for the level of functionality in a more budget-friendly and valuable package, the Gigabyte X570 Aorus Elite WiFi is a worthy choice. At a significantly lower price tag, it offers competitive features and has a cool and sleek design.
Powered through 12+2 DrMos stages along with alloy chokes and durable capacitors, this motherboard provides stable power and is capable of some CPU tweaking too. Plus, the thick 6-layer PCB is also great at dispersing the heat around the VRM and other components.
When it comes to RGB lighting, Gigabyte has kept it classy and minimal. There are only three RGB zones, each on the sides. It lights up the board but it's not overwhelming either.
It could be perfect for those who want to light up their PC but keep it fairly minimalistic. The pre-installed RGB control software, Aorus Fusion 2.0, is beginner-friendly and intuitive too.
All in all, the Gigabyte X570 Aorus Elite WiFi is a highly recommended AM4 motherboard. If you're building an AMD PC and are looking for a high-end board to power your 3rd or 5th Gen Ryzen CPU, you can't go wrong with this one.
Pros:
Q-Flash Plus button could be useful for beginners to update BIOS
Aluminum covers for M.2 drives
Rear I/O covered by aluminum plate for durability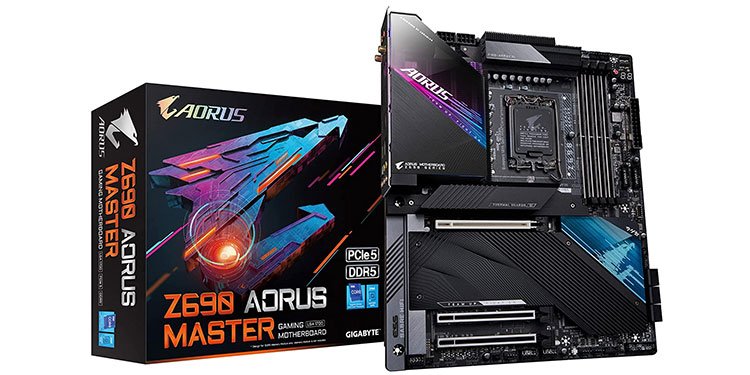 Key Specifications
CPU Socket: LGA 1700
RAM Capacity: 128GB DDR5 (4 Slots up to 6400MHz)
Networking and Connectivity: Intel WiFi 6E, 10G Ethernet Port, and Bluetooth 5.2
Form Factor: ATX (12 x 9.6 inches)
RGB Support: Yes (Aorus RGB Fusion 2.0)
RGB Headers: 2x Addressable, 2x RGB LED strip header
Audio: Realtek ALC1220-VB
The latest Intel Z690 motherboards are the perfect example of power combined with style. Most of them have great VRMs and heatsinks and also feature DDR5 RAM compatibility. If you want a Z690 motherboard that delivers great value at a reasonable price, and has attractive RGB lighting, I recommend the Gigabyte Z690 Aorus Master.
It features a highly impressive 19+1+2 power stage design combined with an extended heatsink, a heat pipe, and a nanocarbon baseplate. So, it's safe to say that this motherboard can handle any crazy overclocks you can throw at it as long as you have a sufficient AIO to go along with it.
Another special feature is the 10G ethernet port by Aquantia along with WiFi 6E and Bluetooth 5.2. Most users are fully comfortable with a 1G or 2.5G port, so 10G is definitely a level up. If you have a high-speed fiber connection or use a network-attached storage system, this would come in handy.
It doesn't fall back when it comes to design either. It has a minimalistic design with a futuristic cyberpunk theme. It flaunts a distorted Gigabyte eagle logo on the lower side of the motherboard along with recessed cybertext patterning and the "Aorus" title on the VRM heatsink area,  each backlit by RGB controlled by Aorus Fusion software. It looks supercool.
So, the bottom line is if you're looking for a RGB-studded Z690 motherboard that offers great value for the price and looks fantastic with with a sleek and fun design, keep the Gigabyte Z690 Aorus Master in mind.
Pros:
Outstanding power phase design
10G Ethernet port great FPS gaming and NAS system
DDR5 RAM compatibility
Cons:
DDR5 memory kit availability for this motherboard is scarce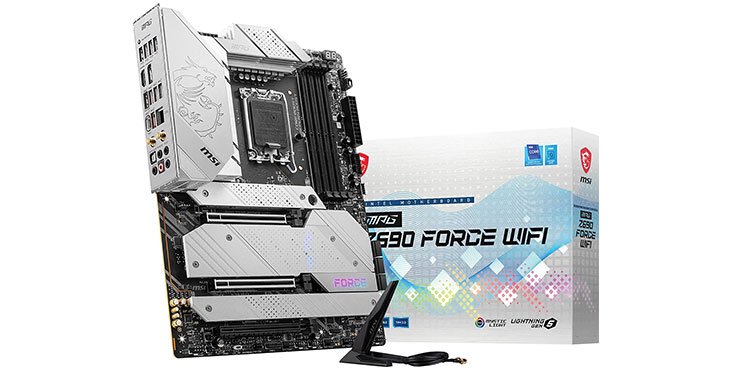 Key Specifications
CPU Socket: LGA 1700
RAM Capacity: 128GB DDR5 (4 Slots up to 6666MHz)
Networking and Connectivity: Intel WiFi 6E, Bluetooth 5.2, and 2.5G Ethernet Port
Form Factor: ATX (12 x 9.6 inches)
RGB Support: Yes (MSI Mystic Light)
RGB Headers: 1x RGB LED, 2x RAINBOW (Addressable), and 1x Corsair LED header
Audio: Realtek ALC4080
White often goes well with soft RGB tones like cyan, purple, and green. It gives off a chilled and joyful aura. That's one of the reasons why users who are looking to build an attractive RGB setup often go with white or silver components.
If you're going that route too and want a white Z690 motherboard for your Alder Lake CPU, the MSI Z690 Force is a great option.
The area in which this motherboard excels, in addition to design, is its build quality. The extended VRM heatsink as well as the aluminum covers for the four onboard M.2 SSDs ensure cool and smooth performance even during overclocking and long hours of gaming.
Other than that, it has everything you can expect with a Z690 motherboard: 128GB of DDR5 RAM capacity, a BIOS button, HDMI and DP ports, 2.5G LAN and WiFi connectivity, and multiple USB ports. Plus, another special feature is the Q-Code debug LED on the upper right side of the PCB. It makes troubleshooting easy in case you come across an error.
So, all in all, the MSI Z690 Force is a great choice for anyone looking for a white RGB motherboard. The RGB lighting is minimal but powerful: the backlit "FORCE" typography along with the lighting on the heatsink on top of it looks awesome and fits well with white builds. It also delivers good performance for the price and is an awesome motherboard.
Pros:
Pre-installed with MSI Mystic Light for easy RGB control
Premium build quality
Menacing MSI dragon design on VRM heatsink looks fantastic
Cons:
Volatile pricing and availability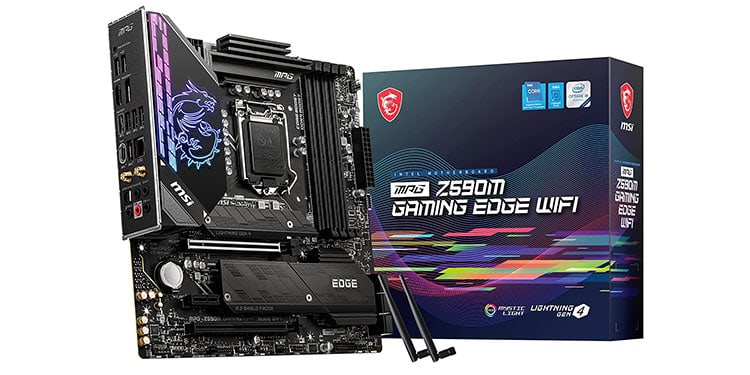 Key Specifications
CPU Socket: LGA 1200
RAM Capacity: 128GB DDR4 (4 Slots up to 5333MHz)
Networking and Connectivity: Intel WiFi 6E and 2.5G Ethernet Port
Form Factor: Micro ATX (9.6 x 9.6 inches)
RGB Support: Yes (MSI Mystic Light)
RGB Headers: 1x RGB LED, 2x RAINBOW (Addressable)
Audio: Realtek ALC4080
The Z690 chipset is the talk of the town right now. However, if you haven't upgraded your Intel CPU from 10th or 11th Gen, you can't buy one motherboard since it's only compatible with 12th Gen CPUs.
So, your best option is to go with the Z590 chipset. Most of these motherboards still provide solid value for the price and aren't as hyped up as Z690 either.
Considering the needs and limits of a 10th or 11th Gen CPU, one great option that stands out is the MSI MPG Z590M Gaming Edge WiFi. It's available in the Micro ATX form factor, much smaller than standard ATX boards you might be familiar with. This makes them perfect for SFF builds and suitable for regular ATX builds too.
When it comes to VRMs and cooling, it has 12+1+1 power phases along with 8+4 CPU power pins. This, combined with the extended heatsink, makes it a great option to run your CPU optimally and also overclock to a certain degree.
In terms of RGB, this motherboard is impressive. The menacing MSI dragon is backlit with RGB on the VRM heatsink along with a few recessed lines on the back. While this isn't exactly bright and won't light up the insides of your PC, if you have a see-through glass panel on your case it'll give off a cool look along with your other components using MSI Mystic Light.
To cut a long story short, the MSI MPG Z590M Gaming Edge WiFi is a highly recommended Z590 motherboard. If you're assembling your PC inside an SFF case, it should be even more interesting to you. It's impressive not only with its VRMs and heatsinks but also design and tasteful RGB implementation.
Pros:
Thermal pads and aluminum shields for onboard M.2 SSDs
Micro ATX form factor makes it perfect for SFF builds
Sleek and vibrant design
Cons:
Incompatible with 12th Gen Intel CPUs
Will an RGB Motherboard Perform Better Than a Normal Motherboard?
No. It's just lighting.
An RGB motherboard may have better build quality than your typical motherboard, however. Motherboards with RGB also tend to come with higher-end chipsets and price points, which will be better than cheap motherboards with entry-level chipsets.
What are RGB and ARGB Headers on a Motherboard?
When buying a motherboard, knowing beforehand how many RGB and ARGB headers it has is important. It can limit you when it comes to how many RGB-studded components and peripherals you can install in your setup.
You might think they're replaceable but plugging them the wrong way can damage a component.
An RGB header, typically a 12V 4-pin connector, provides limited functionality and can only power single-color lights without smart ICs. An addressable RGB header, which is typically a 5V 3-pin connector, provides advanced functionality: you can use a multitude of colors and patterns on a single LED strip.
How brands label their RGB and ARGB headers varies. For example, on MSI boards, the RGB header will be labeled either 'JRGB' or 'JLED' while ARGB will be labeled as 'JRAINBOW.' The specs page of an MSI motherboard that features two RGB and ARGB headers will appear like this:
2x 4-pin RGB LED connectors
2x 3-pin RAINBOW LED connectors
Of course, there are ways around the limitation. It is possible to daisy chain multiple components and connects them to a single header. Moreover, you can also buy an extension but those cost extra and make cable management much more difficult. So, it's better to just check beforehand to avoid issues down the line.
Can You Integrate All RGB Utilities Into a Central Control Hub?
When you're working on developing the ultimate RGB gaming setup, and each brand has its own RGB software, things can quickly get out of hand. A mouse from Corsair, which uses iCUE; a keyboard from HyperX, which uses NGENUITY; a pair of headphones from Razer, which uses Synapse. You get my point.
So, you might be asking, is it possible to integrate all these utilities into one central control hub, powered by the motherboard? There are some third-party solutions like JackNet RGB Sync which are designed to do exactly that.
However, it's better to stick with official and first-party software in most cases, and there are solutions for that.
There are some motherboard brands that have collaborated with peripheral manufacturers as well. For example, ASRock Polychrome works with Razer Synapse.
So, in order to simplify RGB synchronization across your setup, it's best to either stick with one brand for all your components or learn in advance which RGB utilities work together and purchase accordingly.
This will ensure that each time you want to change the look of your setup, you don't have to click around a bunch of different programs and can work from one central control hub instead, and keep things simple.
Red, Green, and Blue
Adding some RGB goodness to your setup is a quick and easy way to spruce it up and make it seem way more exciting and fun. This is why many gamers light up their gaming room with unique light fixtures.
Often the PC is the object of attention in the setup, and the motherboard plays a big role in aesthetics since it is the centerpiece of the case.
Even if you don't have any fancy components or your cable management isn't in order, getting an RGB motherboard is a great way to add a fun gaming aura to your setup.
However, no matter how good it looks, it's still important to take specs and performance into account: heatsinks and VRMs, ample I/O, RAM capacity, build quality, and so on.
Whether you've already aced your RGB game or are just getting started, I hope you found the best motherboard for your needs in this article!