How To Pick The Best PSU Brand For Your Needs
August 28, 2023
A bunch of manufacturers today produce pretty identical PSUs with similar specifications, making it a daunting task to select one.
However, do note that there are a few distinct characteristics of each brand that help them stand out from their competitors.
Personally, I always opt for a brand that builds a high-quality power supply with the best customer support, an exceptional warranty period and that fits my bill.
While Seasonic is one of the pioneers in the PSU industry with a bunch of top-notch products, Corsair is more focused on monitoring and controlling the power supply with its special application, iCUE.
On the other hand, EVGA offers an exceptional warranty, covering any damage, and Be quiet PSUs, as the name suggests, focus on being really quiet.
Seasonic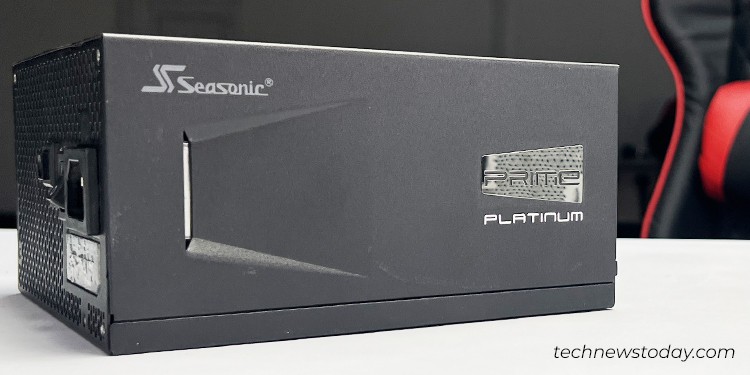 Crowned with the 2023 European Hardware AWARD for Best PSU series, Seasonic stands out as one of the reputable brands in the PSU industry.
Interestingly, it is also one of the Original Equipment Manufacturer (OEM) that produces PSUs for other brands. Notably, companies like Corsair and Cooler Master rebrand products made by Seasonic and sell them. Amazing right?
Not only do these things depict Seasonic as a reliable brand in the industry, but they also produce PSUs with a range of specifications and distinct features, like fanless design, that help them stand out from their competitors.
The PRIME, Vertex, FOCUS, CORE, and Prime Fanless series are Seasonic's most popular PSUs, catering to various builds, from budget to high-end.
They even include a premium lineup of ATX 3.0 compatible PSUs suitable for graphic cards with PCIe 5.0 connectors.
Seasonic's products are backed by exceptional warranties of 3 to 12 years, providing customers with peace of mind. To be honest, I don't think you'll ever run into problems if you choose Seasonic.
Trust me, I have been using a range of Seasonic PSUs from the first day of my PC building, and I don't have a single complaint to date.
Nevertheless, if you need any kind of assistance, you can quickly get in touch with the Seasonic customer care. They have incredible customer service.
Corsair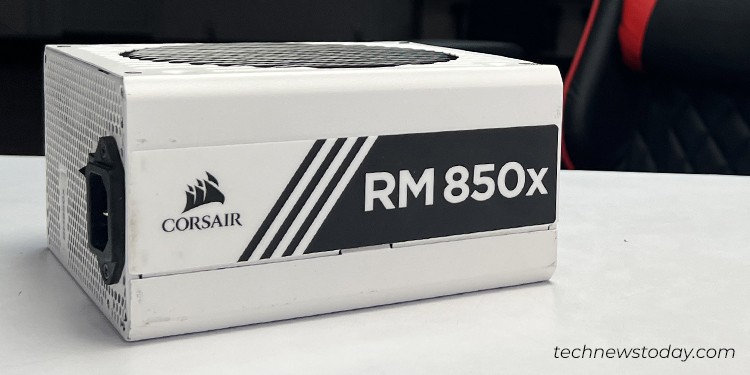 With a long proven history of building robust power supplies, Corsair is another well-known name in the PSU industry that is committed to producing high-quality, efficient, and reliable power supply units.
Regardless of whether you have a mid-range setup or an extremely high-end rig, Corsair has your back! From a 550-watt 80 Plus Bronze non-modular PSU to a 1600-watt 80 Plus fully modular Titanium PSU, they have everything you need.
Corsair offers a unified software interface, iCUE, enabling you to monitor and control the PSU parameters like fan speed, switching between single-rail and multi-rail, and configuring the OverCurrentProtection settings.
Corsair AX760i, HX750i, and RM650i are some of the PSUs that come with iCUE integration.
The most popular PSU series from Corsair are the RM, RMx, HXi, AX, CX, TX, and SF series.
While the RM series PSUs offer features like Zero-RPM fan mode, RMx series is the upgraded version of the RM one. They have similar features to the RM series but come with more stable power delivery and tighter voltage regulation.
Likewise, for overclocking enthusiasts, the HXi series is a great choice. Those seeking aesthetically appealing builds may consider options like the Corsair CX750F RGB from the CX series.
On the other hand, you can also seamlessly integrate PCIe 5.0 GPUs into your build using ATX 3.0 compatible PSUs like the RM1200x and HX1000i.
Coming to its warranty, Corsair generally offers 5, 7, or 10 years of warranty, based on the specific model.
Much like Seasonic, they also have excellent customer support. There's nothing to worry about if you ever run into a problem while using their power supplies. They are always there to help.
EVGA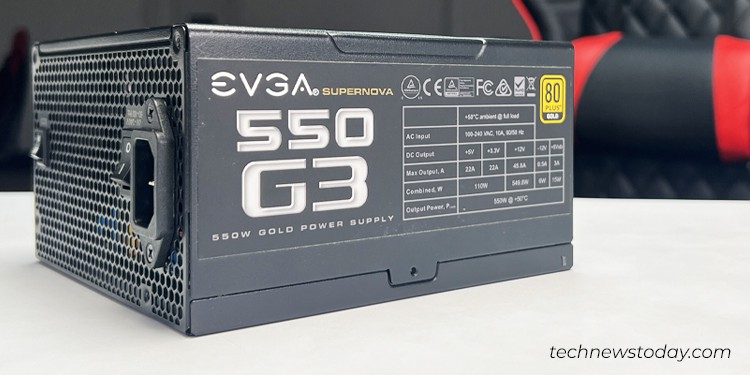 EVGA is well-known in the hardware industry for producing graphic cards and other computer peripherals, including power supply units.
Similar to the Seasonic and Corsair ones, EVGA also has an extensive lineup of power supplies. But do you know what makes it stand out of all the brands?
With the exceptional 3 to 10-year warranty, EVGA is committed to fully cover nearly every type of damage that your PSU might be susceptible to, ensuring full protection of your hard-earned money.
They also come with a power-on self-tester or a jumper that helps test your PSU for failure, making troubleshooting a lot easier.
In terms of product offerings, EVGA has several popular PSU series, including the T2, P, G3, GE, GM, and G7, catering to a wide gamut of user requirements.
EVGA power supplies are made even better with special Hydro Dynamic Bearing (HDB) fans. These fans not only cool the PSU efficiently but also make it a lot quieter.
But what truly distinguishes EVGA from its competitors is its exceptional customer support and remarkable warranty offerings.
Be Quiet!
Be quiet! is another dominant player in the PSU industry that is well recognized for living up to its name by prioritizing both silent operation and high performance.
Their PSUs are designed with advanced SilentWings fan technology that ensures efficient power delivery while minimizing noise levels, even under heavy loads.
They also incorporate an anti-vibration feature for minimal noise output.
Just like Seasonic, Corsair, and EVGA, Be quiet! offers a diverse range of power supply options to cater to various user needs.
What sets them apart from their competitor is their focus on quiet operation, making them an excellent choice for users who value a peaceful computing environment.
Popular series from Be quiet! include the Straight Power, Dark Power, and Pure Power series, from standard builds to high-performance setups.
Notably, their Dark Power PRO 13 model even has a switch to toggle between single-rail and multi-rail mode, single-rail making the overclocking more optimized.
In addition to the quiet computing experience, Be quiet! PSUs also come with extended warranties, providing users with peace of mind regarding their investment.
Other Brands
There are also a few other manufacturers, like Thermaltake, Cooler Master, Silverstone, and MSI, that produce some top-notch PSUs in the industry.
If the brands we discussed earlier are not available in your region, you are also good to go with any one of these.
But before that, let me make it clear that regardless of the brand you opt for, make sure they meet the standard criteria for a power supply.
These include the PSU wattage, 80 PLUS efficiency rating, and safety features like OCP, OVP, UVP, OTP and SCP. While at it, don't forget to check the warranty period and customer reviews too.
Do note that you might observe a slight price difference between these brands despite having the same specs. There's nothing to worry about as long as you are going with the branded one. The choice is all yours.