Is BIOS Update Necessary? 8 Reasons To Do It
August 30, 2023
While we normally and regularly proceed with software updates, that's not the same when it comes to a device's firmware. Since tinkering with motherboards can be risky, most beginners hesitate to update their BIOS.
You should flash your BIOS only when it's absolutely necessary. Do it if you need to resolve security vulnerabilities, fix hardware/firmware bugs, add compatibility to new components, or if there's a major system enhancement update available.
It's also advisable before overclocking your processor or memory. While BIOS updates do not generally come with new features, it's still something to keep an eye on.
Some manufacturers do not recommend it unless you encounter any boot or POST-related issues. Well, if you're going to follow the right approach, there shouldn't be any harm at all. But is this hassle of updating BIOS worth it? Here's a detailed guide on why and when you should go for it.
Add Security Patches
The first and foremost reason to update your BIOS is to mitigate the potential security vulnerabilities. If your manufacturer brings up a relevant version, they are likely going to label it as 'recommended' in its download description.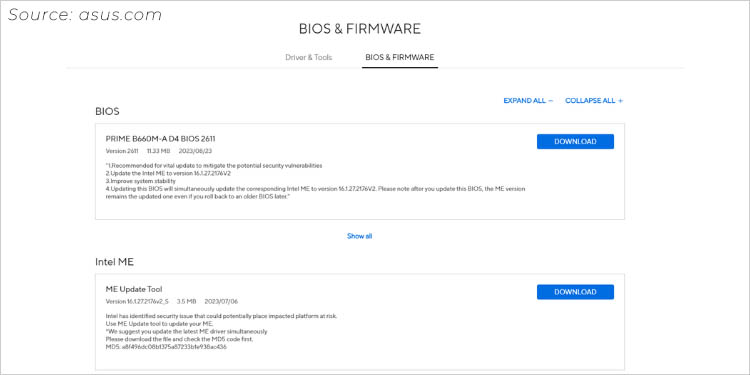 Intel users are even advised to update the Management Engine, which is an independent processor core within the Multichip Package (MCP). You'll find the relevant tool within the support page itself (just below the BIOS drivers section).
Such firmware updates fix security issues (identified by the processor) that could put your platform at utmost risk. In fact, to flash some particular BIOS versions, it's necessary to update to the stated ME version first.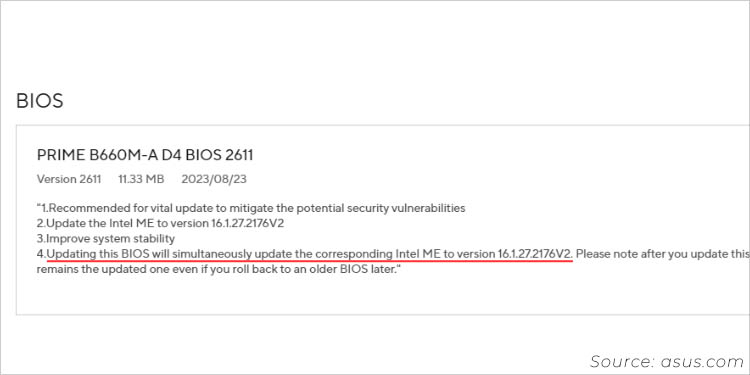 No worries, though. When flashing the latest BIOS, the relevant Intel ME gets updated simultaneously. But it's essential to keep tabs on the particular update's description to be super sure regarding this.
Even though AMD users do not have to look out for such management engine firmware updates, that doesn't mean there's no security feature at all. You may find 'Enhanced security', 'Mitigate AMD potential security vulnerabilities', or similar indications.
Also, every BIOS update on AMD platforms comes with a new AGESA version. They include security benefits along with other performance boosters, which we shall discuss below step-by-step.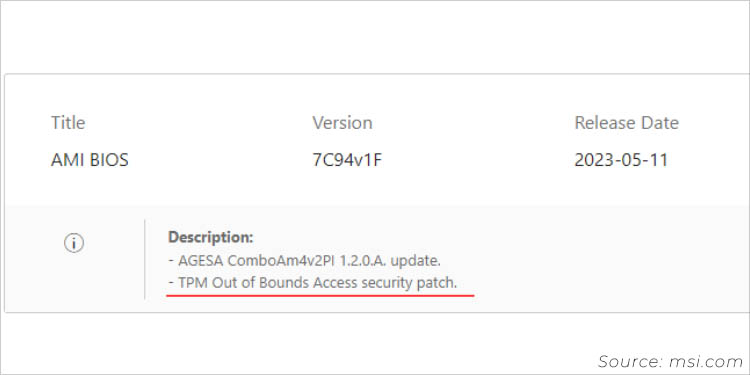 As depicted in the above screenshot, my MSI MAG B550M MORTAR has offered a TPM Out of Bounds Access security patch in its 7C94v1F version along with the AGESA update.
Keeping all these things in mind, you should keep your BIOS up-to-date if you seek to address any security flaws or simply wish to add new features.
Fix Compatibility Issues and Related Bugs
Certain hardware and firmware-related bugs might lead to unexpected glitches. Even after trying out several solutions, nothing might help.
I've been there as well–after enabling fTPM on the ASUS PRIME B450 motherboard (running 3604 version), I experienced random stuttering when watching videos and playing games. To my surprise, the manufacturer had already introduced this bug fix on its 3802 version.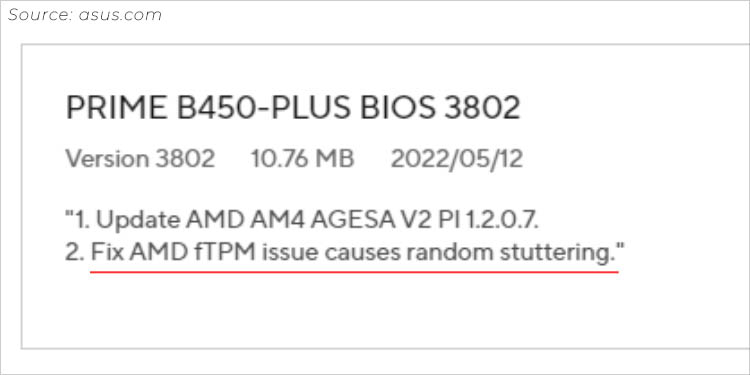 Similarly, your model could also have offered a relevant fix that might be hindering your system performance. So, I recommend keeping tabs on your model's support page and the community forums.
These BIOS updates could even be related to specific applications. Taking the same PRIME model as an example, it offered additional support for Destiny 2 in its 1816 version that helped most users fix certain compatibility issues.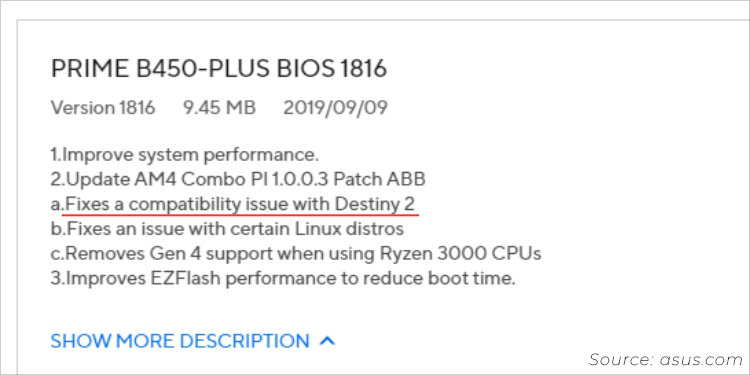 Likewise, you might find hardware support like improved compatibility for USB, memory, graphics cards, etc. Also, it might include software/firmware-related fixes, which often involve improvement of their OEM software or flashing utility.
Having said that, if you find any bugs or experience some sort of faulty behavior, it's a good idea to examine different BIOS versions as they can often be of help.
Provide Compatibility to New Hardware Components
Older BIOS versions are unlikely to support newly installed hardware components (especially if they were recently released). It may lead to boot failures and even NO POST issues.
As you might have guessed, updating BIOS can add support and ensure compatibility with all your other components. Look for 'New CPU support', 'Improve CPU compatibility', 'System compatibility for CPUs with the certain suffix', 'Support CPU with certain series', or similar indications.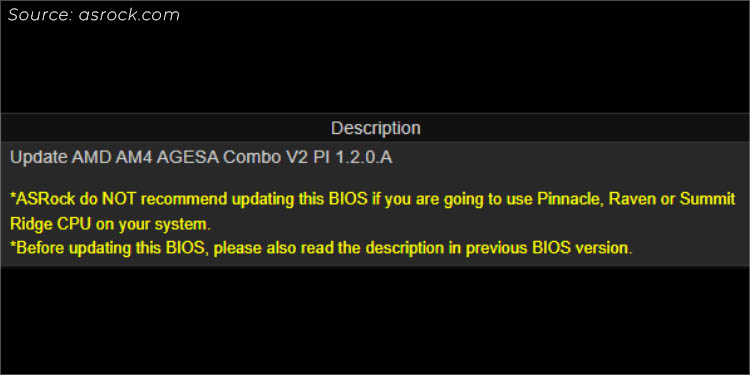 Conversely, some manufacturers won't recommend BIOS updates if you're using specific processors. As in my case, ASRock's Fatal1ty X470 Gaming K4 had no support for my Pinnacle Ridge AMD CPU.
These days, BIOS updates can even include support for next-generation processors (usually through microcode updates). This has made it possible to use newer CPUs to work with older motherboard chipsets.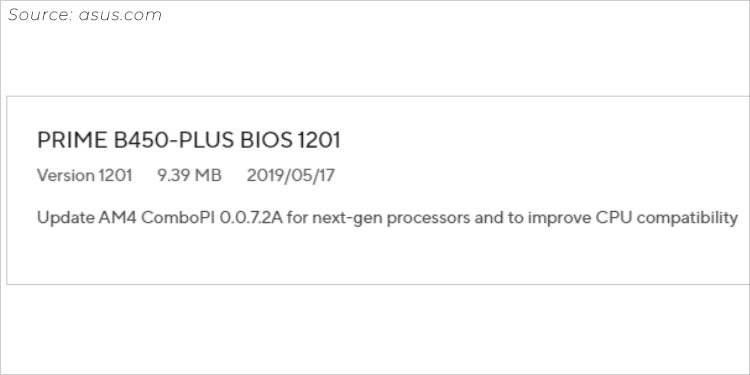 Moreover, some may eliminate certain features that could conflict with the proper functioning of newly installed hardware. For example, the removal of Gen4 support when using Ryzen 3000 CPUs.
Aside from processors, BIOS updates can even be beneficial when installing new GPU, RAM, and other components. As mentioned earlier, inspect the description before proceeding to flash a new version.
So, before the installation of new hardware components, I suggest upgrading your BIOS for compatibility reasons.
Enhance System Performance and Stability
'BIOS update doesn't unlock any extra performance' is what I have come across in a lot of forums. While the sentence is somewhat true, I do not completely agree!
You shouldn't expect a major performance boost just through a BIOS update as there are several things that come into play. However, manufacturers might have uploaded a version that is actually meant to improve your system stability.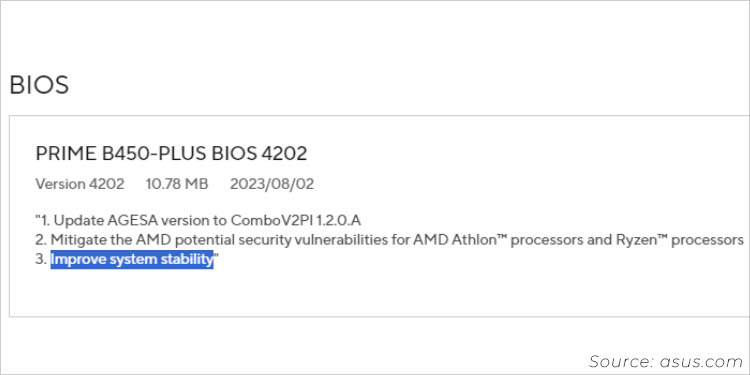 If you find microcode updates or other vulnerability fixes, that's definitely going to improve system performance to some extent. In fact, this is something to keep an eye on, even for users who follow the 'If it isn't broke, don't fix it' approach.
In some models, you'll clearly notice descriptions like – 'Improve system performance and stability', 'Enhance CPU/GPU performance', 'Improve system's compatibility' etc. But if you do not want to update BIOS just for a minor boost, it's completely fine to skip them.
However, if there's a major update that the manufacturer recommends, it shouldn't be ignored. For instance, my Gigabyte TRX40 AORUS MASTER motherboard introduced a series of vulnerability updates in its F6 version, and all users were strongly advised to flash it.
My suggestion is to go for a BIOS update if you're experiencing degradation in the system performance or when your manufacturer recommends doing it at the earliest.
Add or Update Features
Generally, BIOS updates do not come with added features. But there's an exception to this as well.
Even in the most recent updates I performed on multiple motherboards (each from a different brand), I didn't find any feature additions in the latest BIOS version. They only included the latest Intel ME and AMD AM4 AGESA Combo versions with minor stability improvements.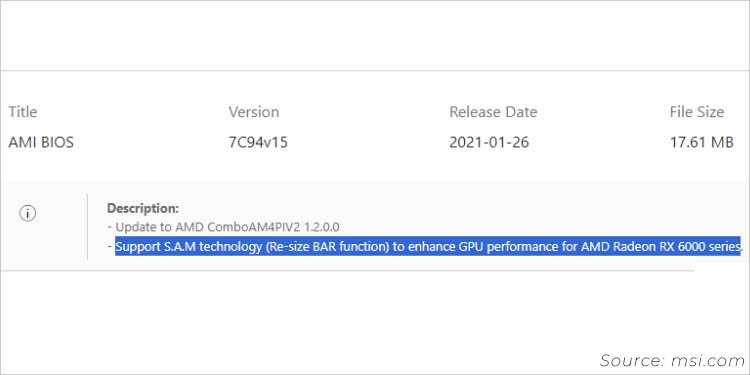 When I looked back, there were certain features added in the previous updates. These involved Intel Adaptive Boost Technology, Smart Access Memory Support, ReSizable BAR compatibility (for discrete GPUs), unlocked CPU PCIe Lanes, manual voltage adjustments, and more.
While the addition of newer features is quite rare, improvement/enhancement of current ones is common. For example, my Fatal1ty X470 Gaming K4 motherboard included an enhancement of S3 and S4 modes in its last stable version (4.90). Similar improvements are usually present in major versions.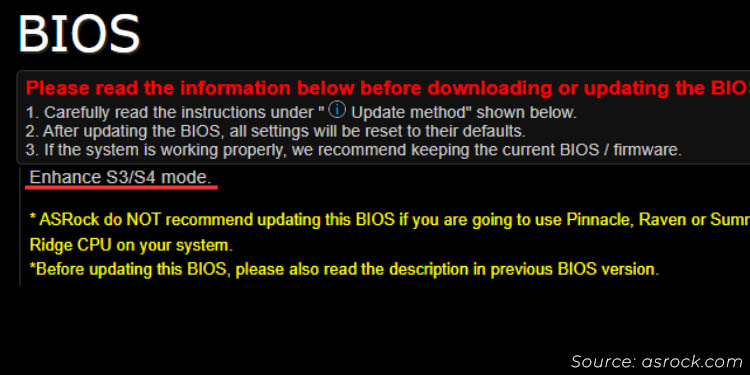 It's definitely not feasible to include all possible features here. So, even though I'm repeating this–examine your model's BIOS description. It should clearly mention whether the new version has something to offer.
The gist here is you can flash a new BIOS version if your manufacturer introduces a new feature or includes an enhancement to the pre-existing ones.
Support for Overclocking and RAID
Whether you're planning to push the processor or memory's clock speeds beyond the factory specifications, you should always update the BIOS to the latest version first.
Your motherboard could have integrated new features or resolved certain bugs that otherwise led to system instabilities. That's exactly what happened when we tried going beyond the RAM's maximum-supported capacity on ASRock (by enabling XMP), which kept crashing the system.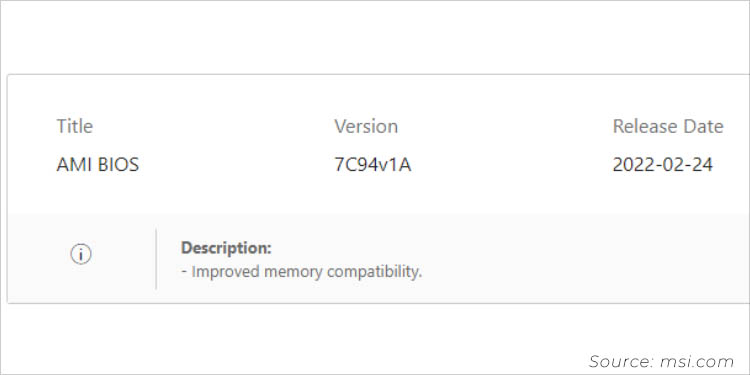 Usually, there won't be anything listed in the description regarding overclocking support. But you should definitely look out for 'Improve CPU stability', 'Improve DRAM stability', 'Update Memory Overclocking Rules', or similar indications.
Even though RAID setups don't usually require a BIOS update, there are times you might face compatibility and stability issues.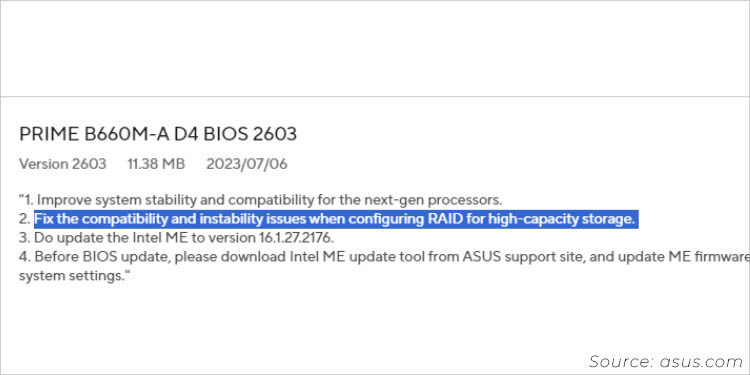 That was the case when I was setting up a RAID array on my ASUS PRIME B660M-K D4 motherboard but was unable to create high-capacity storage. All I had to do to resolve this was update the BIOS and reconfigure it.
That being said, BIOS updates are necessary when you're going to overclock your system or looking to set up RAID for maximum stability.
For Default OS Support
While we know that BIOS is a part of computer hardware that initializes other components, it also offers OS support indirectly.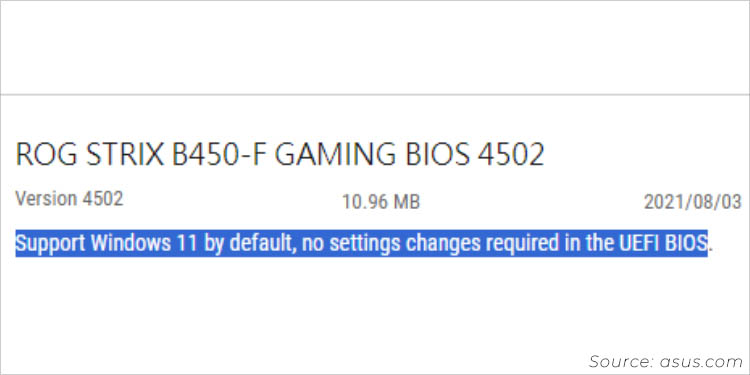 For instance, most manufacturers have introduced a new version that addresses the default configuration required for Windows 11. This involves changing the status of TPM to 2.0 and Secure Boot to enabled.
Having said that, users no longer need to enter their BIOS interface and change those related settings before installing Windows 11. While this isn't a major reason for you to update the motherboard's firmware, it can certainly be done by basic users who are hesitant to set up their BIOS time and again.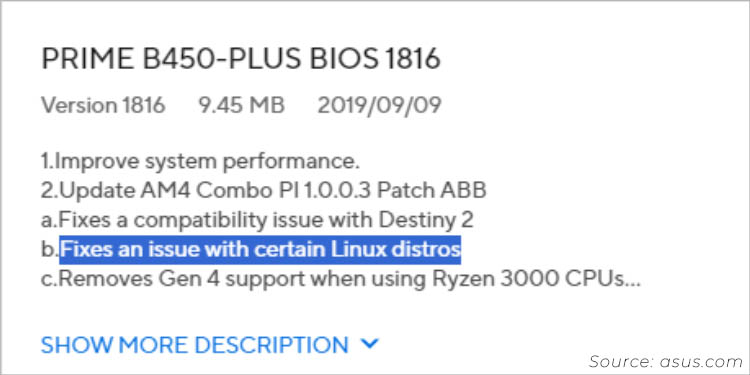 Besides Windows, some BIOS updates are also known to fix particular issues with Linux distros.
Clearly, users who aren't well familiar with computer hardware but seek default OS support can get assistance from their tech-savvy friends or professionals to update their BIOS.
Other Troubleshooting Purposes
While I've already covered the most obvious reasons, you might require updating BIOS for troubleshooting purposes as well. Sometimes, you never know what could have gone wrong or what component is faulty. And the only possible fix would be upgrading the firmware.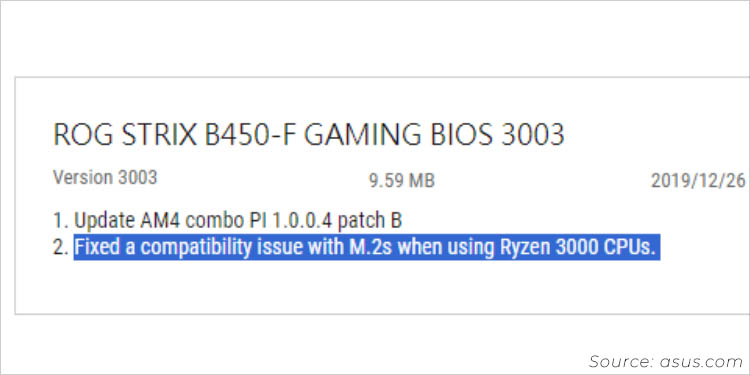 Recalling back the time when updating BIOS on ASUS ROG STRIX B450-F GAMING (running 2605 version) with Ryzen 5 3500, my M.2 SSD wasn't showing up. After updating to the latest version, it fixed the issue. When I looked back, the resolution was indeed made, in the 3003 version.
Similarly, BIOS updates offer corrections to certain hardware components and can resolve corrupted settings as well. But always consider this as your final step when troubleshooting.
Moving Forward – How to Update BIOS?
Now that you've known all the necessary reasons, you may proceed to update your BIOS. While the steps involved are pretty straightforward, this can vary depending on your motherboard brand.
While it's recommended to upgrade to the latest one directly, some versions might require previous updates as well (in an incremental fashion). Also, it's advised not to flash a 'beta' version as they haven't gone through proper testing.
Since there are a lot of things to consider, it's absolutely necessary to follow as depicted in the description.
For your comfort, our team has already prepared dedicated guides for the most popular motherboards and laptops. Navigate to the relevant link below to learn the safe and right way to update your BIOS:
One major concern is what happens if a BIOS update fails. Well, legacy systems do not offer any recovery feature, and in such a case, there's nothing much a normal user can do. 
Meaning your motherboard can get bricked unless you boast advanced soldering skills to swap the BIOS chip. There's also a way to reprogram it through specialized tools (again, if you have the right skills to do it or require advanced professional assistance).
On the other hand, most modern-day UEFI-based BIOS integrate fail-safe features, like Dual BIOS, USB Flashback button, Boot Block Recovery Technology, and more. So, such an auto-recovery feature kicks in automatically, or you have to do it manually to bring your motherboard back to life.
While these are definitely serious concerns, you will never end up in such scenarios if you update the firmware correctly. Just keep in mind the power interruption (I recommend using a UPS), and download the correct BIOS version. Then, you should be good to go!